Experience wholesome body balancing with natural magnets
Biomagnetism, also known as The Biomagnetic Pair was discovered by Medical Doctor, Isaac Goiz, Mexico in 1988.  Dr. Goiz has successfully treated more than 350,000 patients with Biomagnetism and has trained more than 20,000 Medical Doctors and other health therapists from many different countries.   Because of this discovery, the Oxford International University from England gave Dr. Isaac Goiz the Doctorate of Philosophy in Bio-energetic Medicine in 1999.
Biomagnetism detects different pathogens such as virus, fungus, bacteria and parasites which can be kept under control. It also corrects the pH imbalances in the body. This therapy boosts the immune system, increasing circulation and oxygenation; speeding the response to inflammation.  It is believed that pH imbalances may trigger poor health conditions in human bodies.
By balancing your body with magnets, your body can regain its own natural healing power, strengthen your immunity. It also balances your mind, which can be one of the main causes of your illness.
Biomagnetism have no side effects, it's safe and majority of my clients feel total relaxation, like you never experienced.
Maki Yamamoto, D.PSc. of Biomagnetism Hawaii is certified under Centro De Investigcion De Biomagnetismo Medico, S.C., completed 150 hours of Biomagnetic theory & training by Dr. Goiz and qualified to provide Biomagnetic Pair Therapy Level 2.  She has also attended Bioenergetic Theory and Training under Dr. David Goiz on 3rd Generation Biomagnetism, as well as Microbioenergetics level 1 and 2 certified by Dr. Miguel Ojeda Rios to provide Bioenergetic Therapy.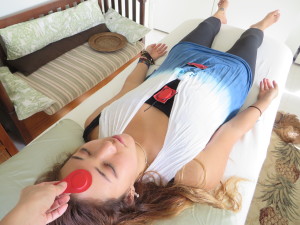 Session Fees
Initial visit  / 90 min – $100
Second visit thereafter / 60 Min- $50
Price will return to Initial visit fee, if not returned within 2 weeks.
Session time includes consultation and actual therapy.
 Session time can get longer then above listed time, if more imbalances are found for no extra fee.
Please let me know if you have time limitation before the session.
Please wear comfortable clothing without metals such as zippers or studs.
Yoga Wear, T-Shirts, light weight pants with no elastic waist band are recommended.
Choose natural fabrics such as cotton and linen for your comfort.
Try to avoid such fabric as satin, which makes magnets more susceptible to falling off.
Please bring a pair of socks as shoes will be provided.
You will be asked to take off all watches and accessories beforehand.
Please try to make an appointment on the day that you have time to relax afterwards, you may feel sleepy after the session.